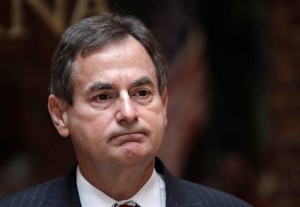 Photo by: Michael Conroy/Associated Press
Indiana's Republican nominee for U.S. Senate, Richard Mourdock is receiving much criticism for comments regarding rape and pregnancy.  During Tuesday night's debate, Mourdock and his opponent Representative Joe Donnelly, were asked if they believe abortion should be allowed in cases of rape and incest; at which point he responded, "I think even when life begins in that horrible situation of rape, that it's something that God intended to happen."
Mourdock quickly tried to walk back his comments in a press conference on Wednesday, explaining that he did not mean "to suggest that God wants rape, that God pushes people to rape, that God wants to support or condone evil in any way" and apologizing to those who were under such an impression.
Murdock's comment came one day after a television ad of Governor Romney endorsing him candidate was released.  The DNC's chairwoman, Debbie Wasserman Shultz has called on the Republican Presidential candidate to denounce the comments and request that this ad be taken off the air.  Though, Romney's spokeswomen Andrew Saul told The Hill that, "Governor Romney disagrees with Richard Mourdock, and Mr. Mourdock's comments do not reflect Governor Romney's views.  We disagree on the policy regarding exceptions for rape and incest but still support him."
This further demonstrates how dominant the extreme right flank has become in the Republican Party.  Mourdock isn't the first GOP candidate to come under fire for such comments this election cycle.
Not only can a Republican nominee, in one of the countries most highly contested races, so blatantly insult women and their ability to make personal health decisions, but can do so and still receive the legitimacy and public support of his party's leader.  Neither Presidential Candidate will be able to call the White House home for the next four years if they are not able to court the women's vote come November 6.  Yet, Romney continuously pushes women away with what President Obama refers to as the social policy of the 1950's.
 *The views and opinions expressed are solely those of the author.