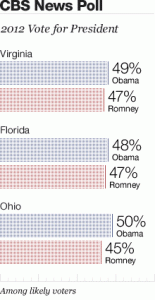 Photo by: ABC News
According to the most recent presidential poll in the swing states of Ohio, Florida and Virginia, by Quinnipiac University/ CBS News/ New York Times, President Obama has a sufficient, 5-point lead in Ohio, while he is only 1 and 2 points ahead in Florida and Virginia respectively.  The poll was conducted between October 23rd and October 28th, and has a margin of error of +/-3%.
In Florida, Obama no longer has an advantage with seniors as Romney is now leading this demographic, 53-42%; although with younger voters, the Republican nominee is behind 55-41%.  While the President is still leading with female voters in this state by 10-points, the gender gap was twice as large in September.
Ohio, a vital state for both campaigns, particularly Romney, as no Republican has won a Presidential Election without it, has not see much change since the last poll.  The Governor is leading with men, independents and whites, while Obama is leading with women and younger voters.
Romney is now leading with independent voters in Virginia by 21-points, a stark contrast from 2 weeks ago, when he was behind by 2%.  He also has a 9-point advantage with male voters and a 13-point lead with seniors in this state.  Obama is ahead with women voters by 10-points, 13-points with people under 35 years old and 3-points by people between the ages of 35 and 64.
1,073 of likely voters in Florida, 1,110 in Ohio and 1,074 in Virginia were interviewed by phone; both landlines and cell phones were used.  The poll can be found at: http://www.cbsnews.com/8301-250_162-57542715/poll-obama-holds-small-ohio-edge-fla-va-tight/?pageNum=1&tag=page