Photo by: govtrack.us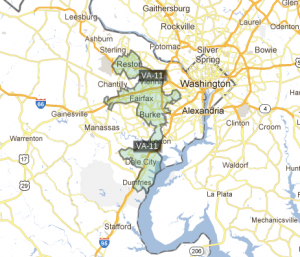 Democratic incumbent, Congressman Gerry Connolly will be facing Republican Chris Perkins to represent Virginia's 11th Congressional District, which encompasses GMU's Fairfax Campus.
Representative Connolly was first elected to the House in 2008, with over a 10-point advantage, and barley retained his seat in the 2010 election; winning with less than 1,000 votes against his Tea Party challenger.  It is believed that this years redistricting will be beneficial for the incumbent, as parts of southeast Fairfax County and Prince William County are no longer part of the district, while sections of Vienna and Reston have been added.
Connolly received his Bachelors degree from Maryknoll College and his Masters in Public Administration from Harvard University.  Before being elected to the House of Representatives, he was on the Board of Supervisors for Fairfax Country for 14 years, spending the last 5 as Chairman.  In Congress, he serves on the House Committee of Oversight and Government Reform, for which he is a Ranking Member, and the House Committee on Foreign Affairs.  Connolly is pro-choice and has voted against the defunding of Planned Parenthood.  He is a strong proponent of the Affordable Care Act and refers to himself as a "pro-business democrat."
To learn more about Connolly's campaign go to: http://www.gerryconnolly.com/
Perkins is a retired Special Forces officer in the United States Army.  He received his B.A. at Franklin and Marshal College before enlisting in the Army in 1981.  He has attended the United State Naval War College, where he received a Masters in National Security Affairs with Distinguished Honors; and the National War College, where he received a second Masters in Strategic Studies.  Once retiring from the Army in 2006, Colonel Perkins began working for the U.S. Coast Guard and is currently self-employed as a national security consultant.
As a moderate Republican, he is pro-choice, but does not think that tax dollars should go towards the funding of abortions; and believes that all people, regardless of sexual orientation should receive the same rights under the Constitution.  Perkins disagrees with Connolly in that he supports the repeal of Obamacare and supports the Medicare reform proposed by Representative Paul Ryan and Senator Ron Wyden as "an excellent start of the discussion."
To learn more about Perkin's campaign go to: http://www.perkins2012.com/