Friday, September 27, 2013 – 2:11pm | Fourth Estate Print Editor Niki Papadogiannakis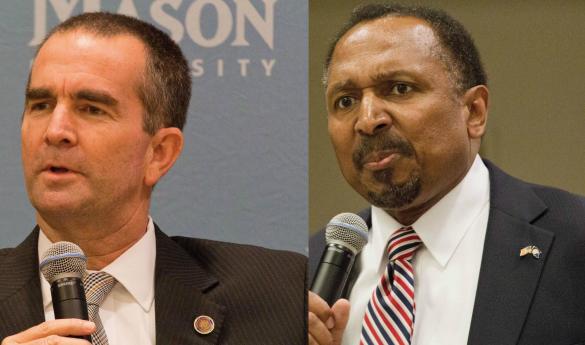 Tuesday night at the Arlington campus, the candidates for Virginia's Lieutenant governor talked higher education, sequestration and mental health among others in their first appearance together and their only debate of the election.
Republican E.W. Jackson and Democrat Ralph Northam took the stage together in Founders Hall to answer debate questions moderated by WUSA reporter Peggy Fox.
On the issue of higher education, Fox asked Northam if he would support privatizing institutions due to the reduction of state funding for public institutions.
Northam opposed the idea, citing his kids' experiences in higher education and the legacy of public institutions such as the University of Virginia.
"Last thing I would want to see happen is for the University of Virginia to go private and to decrease access for those children of ours who have grown up and want to go to school there," Northam said.
Jackson said that what needs to be examined is the federal government's role in providing subsidies that turn into inflation, meaning that the government will overspend their budget and therefore create more debt.
"We should be looking at providing quality education and higher education for everyone who wants it, but I think we have to look at some smart ways of doing it," Jackson said.
Northam proposed solving the problem of the decreasing enrollment of Virginia students in Virginia colleges by adopting a system that rewards in-state students by waiving tuition fees for good grades.
"We need to make education a priority so that we can compete [with] surrounding states and the world," Northam said.
Jackson suggested focusing on community college as alternatives to four-year education and providing more distance education.
"We should be looking at providing quality education and higher education for everyone who wants it, but I think we have to look at some smart ways of doing it," Northam said.
Both candidates acknowledged the effect that the sequestration spending cuts would have in Virginia and  that partisanship in congress does not lead to results and that they need to figure out how to work together to make changes.
Jackson emphasized that government has limited power and that it should stay limited, while Northam suggested tourism becoming a bigger industry and investing in education as solutions.
The candidates disagreed on how to deal with mental health issues, a topic that resonates with the area after the Navy Yard shooting. Jackson supports investing in helping the mentally ill, especially veterans, and suggested the way to protect them and protect others is to institutionalize them.
Northam disagreed, saying there are other options to institutionalization such as opening access to mental health resources and turned to gun law reformation, referencing the 2007 Virginia Tech University shooting
Jackson left directly after the debate to attend another event. Northam spoke to reporters after the debate and discussed his plan to use the Medicaid expansion to give higher education more state funding.
http://www.gmufourthestate.com/content/virginias-lieutenant-governor-candidates-debate-mason