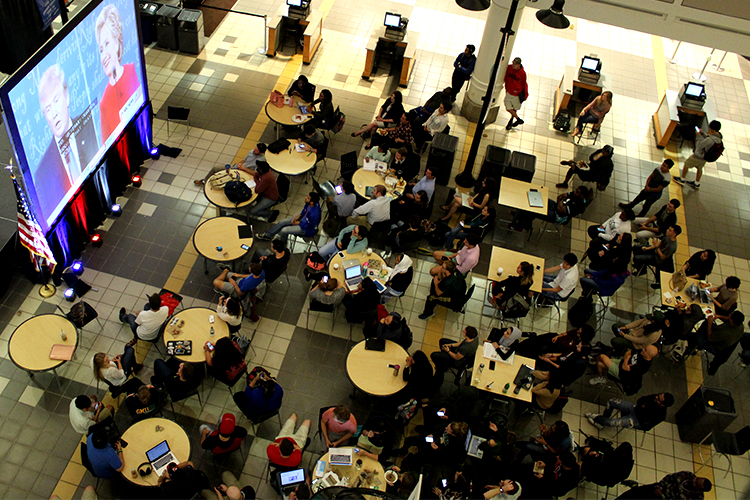 Mason Votes hosted a watch party in the Johnson Center Atrium so students could gather on campus to watch Monday's historic presidential debate unfold on the big screen. Supporters of both candidates enjoyed the debate side by side, with Clinton and Trump campaign gear on display throughout the crowd.
In addition to the large group of Mason students that turned out to experience the first one-on-one meeting between rivals Clinton and Trump, early indications suggest that last night's debate audience may have set a new record for televised debates.
The previous record holder was Carter vs. Reagan in 1980 that pulled in some 80 million viewers. Even if the official ratings number for Clinton vs. Trump (Part I) exceeds that benchmark, the actual number of Americans who witnessed the debate is thought to be much higher when non-traditional viewing and public gatherings are added in.
Consider this reporting from CNN Money's Brian Stelter:
"…the debate averaged a total of 80.9 million viewers across 12 of the channels that carried it live. Nielsen traditionally measures viewers who watch via traditional TV at home. That means people who watched the debate at parties, bars, restaurants, and offices were not counted. Nor does the 80.9 million viewer total include PBS and C-SPAN. Ratings for PBS will be available later Tuesday. Many millions also watched the debate via the Internet… This means the actual total audience is significantly higher than 80 million."
Want to learn more about the issues that are important to Mason students? Check out this post.
Mason Votes will host Debate Watch Parties for the remaining presidential and vice presidential debates in the Johnson Center Atrium at 9:00pm:

• Vice Presidential Debate Watch Party  |  Tuesday, October 4th
• 2nd Presidential Debate Watch Party  |  Sunday, October 9th
• 3rd Presidential Debate Watch Party  |  Wednesday, October 19th
Photos by Mimi Albano.