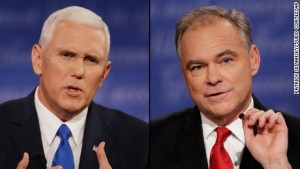 On Tuesday night, former Virginia Governor and U.S. Senator Tim Kaine (D) faced off against former Indiana Governor Mike Pence (R) in the one and only vice presidential debate of Election 2016. Both nominees had the difficult task of defending their respective running mates while making a positive case for their ability to serve as second in line to the commander in chief.
Mason Votes hosted a watch party in the Johnson Center Atrium so students could watch Tuesday's vice presidential debate together on the big screen. Mirroring the national dearth of  interest paid to this year's vice presidential candidates, the crowd that gathered in the Johnson Center was much smaller than the 150+ students and staff that showed up to watch the historic first debate between Donald Trump and Hillary Clinton last week.
In fact, Pence vs. Kaine drew in less than half of the 100+ million viewers that tuned in to witness the first Trump vs. Clinton showdown, making it the lowest-rated VP debate since Cheney vs. Lieberman in 2000.
While reviews of the individual candidates' performances have been mixed, today's newspaper headlines all highlighted the contentious tone of the event. Newseum's Ellie Stanton summed up the national post-debate coverage this way: "newspaper headlines declared the debate "feisty," "passive, aggressive" and "aggressive from the start." While newspapers differed over whose performance was stronger, editors agreed on one thing: The candidates pulled no punches."
Mason Votes will host a Debate Watch Party for each of the two remaining presidential debates of Campaign 2016 in the Johnson Center Atrium at 9:00pm:

• 2nd Presidential Debate Watch Party  |  Sunday, October 9th
• 3rd Presidential Debate Watch Party  |  Wednesday, October 19th
Photos by Mimi Albano.