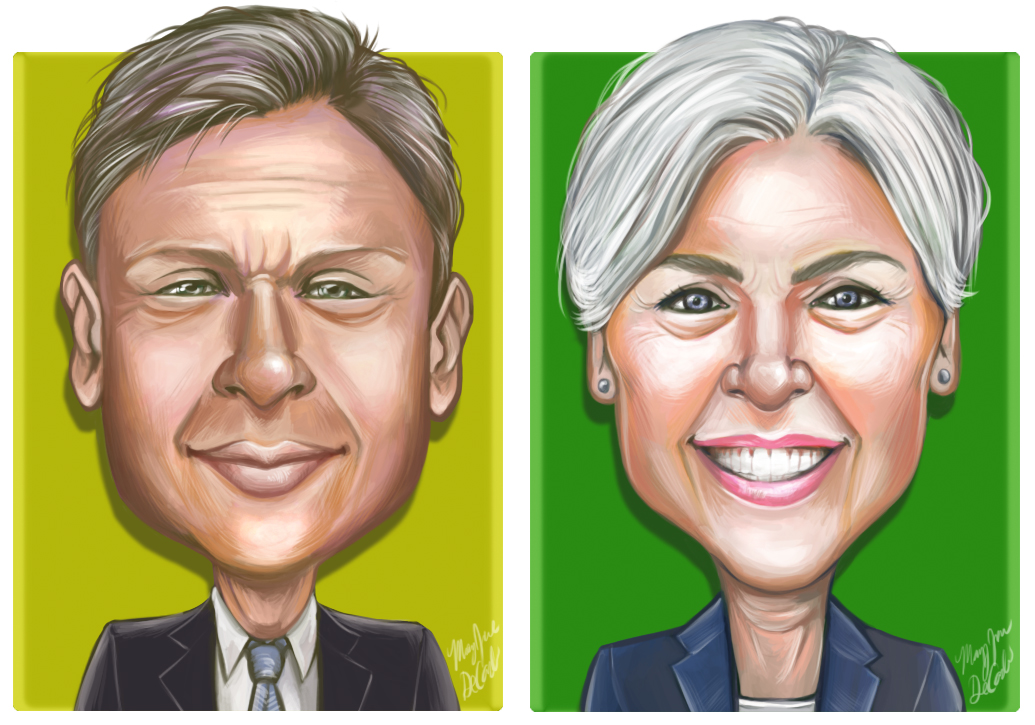 Illustration by: Mary Jane DeCarlo
Mason Votes has interviewed many students on campus who expressed their desire to vote for a candidate other than Donald Trump (R) or Hillary Clinton (D). Libertarian Party candidate Gary Johnson seems to have the most support, but Green Party candidate Jill Stein is not far behind.
But how much do you know about the third party candidates running in 2016? Here is a quick primer on the Libertarian and Green candidates hoping to provide Americans with an alternative to the R/D binary.
---
What is the platform of the Libertarian Party? (from www.lp.org/introduction)
"The Libertarian Party is your representative in American politics. It is the only political organization which respects you as a unique and competent individual. Libertarians believe in the American heritage of liberty, enterprise, and personal responsibility. Libertarians recognize the responsibility we all share to preserve this precious heritage for our children and grandchildren. Libertarians believe that being free and independent is a great way to live. We want a system which encourages all people to choose what they want from life; that lets them live, love, work, play, and dream their own way."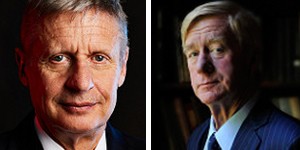 Who are the Libertarian Party's 2016 candidates?

Presidential Candidate: Gary Johnson
Vice Presidential Candidate: Bill Weld
5 Key Points from Gary Johnson's Election Platform: (Full plan: www.johnsonweld.com)

1. Wasteful Spending: By 2017, the national debt will be $20 TRILLION. That is not just obscene, it is unsustainable — and arguably the single greatest threat to our national security.
2. The Economy: Governors Johnson and Weld believe that we must allow a regulatory and tax environment that incentivizes fairness. Not one that picks winners and losers. Regulation should not be used to manipulate the economy, to manage private lives and businesses, or to place unnecessary burdens on those who make our economy work. As governors, both Gary Johnson and Bill Weld supported policies that incentivized job growth. In 2012, Gov. Johnson was praised as having the best "job creation" record of all presidential candidates. 
3. The Environment: The environment is a precious gift and must be protected. Governors Johnson and Weld believe strongly that the first responsibility of government is to protect citizens from those who would do them harm, whether it be a foreign aggressor, a criminal — or a bad actor who harms the environment upon which we all depend. Is the climate changing? Probably so. Is man contributing to that change? Probably so. But the critical question is whether the politicians' efforts to regulate, tax and manipulate the private sector are cost-effective – or effective at all.
4. Immigration: Having served as Governor of a border state, Gary Johnson knows the complex issues associated with immigration reform first hand. Solving immigration problems is not as easy as building a wall or simply offering amnesty. We should appreciate and respect the diversity of immigrants that come to the United States to be productive members of society. But we also need to recognize that everyone who comes here is not so well-intentioned.
5. War on Drugs: The Federal government should not stand in the way of states that choose to legalize marijuana. Governors Johnson and Weld would remove cannabis from Schedule I of the federal Controlled Substances Act, which will allow individual states to make their own decisions about both recreational and medical marijuana – just as they have done for decades with alcohol.
---
What is the Green Party of the United States? (from www.gp.org/platform_2014)
"The Green Party of the United States is a federation of state Green Parties. Committed to environmentalism, non-violence, social justice and grassroots organizing, Greens are renewing democracy without the support of corporate donors. Greens provide real solutions for real problems. Whether the issue is universal health care, corporate globalization, alternative energy, election reform or decent, living wages for workers, Greens have the courage and independence necessary to take on the powerful corporate interests."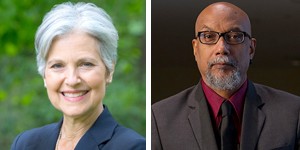 Who are the Green Party's 2016 candidates?

Presidential Candidate: Jill Stein
Vice Presidential Candidate: Ajamu Baraka
5 Key Points from Jill Stein's Election Platform: (Full plan: www.jill2016.com/plan)

1. Racial Justice Now: End police brutality and mass incarceration. Create a Truth and Reconciliation Commission to understand and eliminate the legacy of slavery that lives on as pervasive racism in the economy, education, housing and health. Ensure that communities control their police rather than police controlling our communities, by establishing police review boards and full time investigators to look in to all cases of death in police custody. Demilitarize the police.
2. Health Care as a Right: Establish an improved "Medicare For All" single-payer public health insurance program to provide everyone with quality health care, at huge savings.
3. Education as a Right: Abolish student debt to free a generation of Americans from debt servitude. Guarantee tuition-free, world-class public education from pre-school through university. End high stakes testing and public school privatization.
4. A Just Economy: Set a $15/hour federal minimum wage. Break up "too-big-to-fail" banks and democratize the Federal Reserve. Reject gentrification as a model of economic development. Support development of worker and community cooperatives and small businesses. Make Wall Street, big corporations, and the rich pay their fair share of taxes. Create democratically run public banks and utilities. Replace corporate trade agreements with fair trade agreements.
5. A Green New Deal: Create millions of jobs by transitioning to 100% clean renewable energy by 2030, and investing in public transit, sustainable agriculture, and conservation.