After the first and second presidential debates, many students wondered if Hillary Clinton and Donald Trump will be the only ones they will see take the stage. The answer? Yes.
This year, Gary Johnson (Libertarian Party candidate) and Jill Stein (Green Party candidate) both wish to make the cut. However, Donald Trump and Hillary Clinton are the only two participants who are eligible to participate in all nationally-televised debates.
Why? According to the nonpartisan candidate criteria set forth by the Commission on Presidential Debates, neither Johnson nor Stein meet the national polling threshold of 15% required to participate.
---
According to the Commission:
"Under the 2016 criteria, in addition to being Constitutionally eligible, candidates must appear on a sufficient number of state ballots to have a mathematical chance of winning a majority vote in the Electoral College, and have a level of support of at least 15% of the national electorate as determined by five selected national public opinion polling organizations, using the average of those organizations' most recently publicly-reported results at the time of the determination." (www.debates.org)
---
The current Real Clear Politics polling average shows just how far both Johnson and Stein are lagging behind the 15% debate threshold: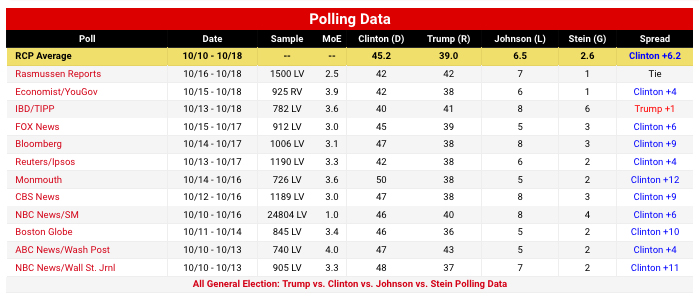 For those who like visualizing data, note the wide gulf between the major and third party candidates as well as the 15% line: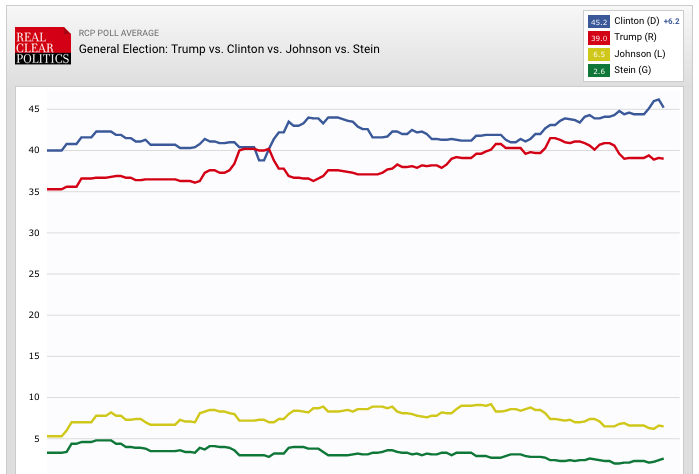 Reporting by Hannan "Nannie" Abubaker.
Tonight is the FINAL Presidential Debate of 2016 and airs LIVE at 9:00PM from the University of Nevada-Las Vegas.
Mason Votes is hosting a watch party on campus in the Johnson Center Atrium at 9:00PM.