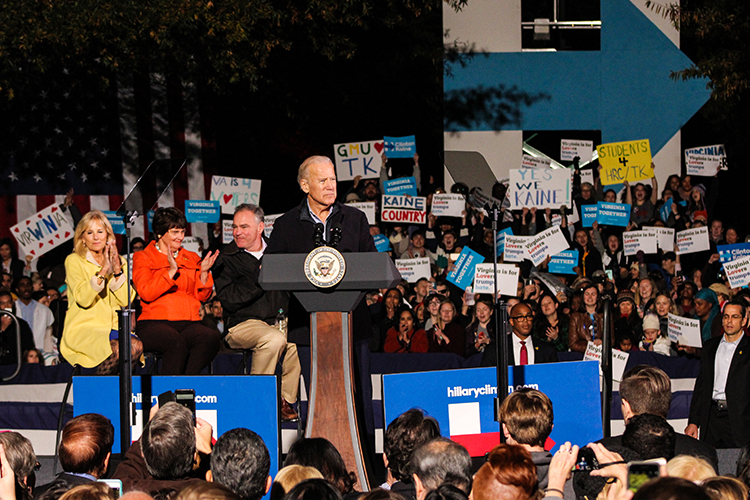 Tim Kaine and Joe Biden: Stronger Together on North Plaza
By: Victoria David
Tim Kaine and his wife, Anne Holton, chose Mason as the place to rally voters one last time in his state of Virginia on the eve of this historic election. Vice President Joe Biden and his wife, Dr. Jill Biden, joined the Kaine's on their visit to Mason's Fairfax campus. The Democratic vice presidential candidate delivered a strong speech, as did Vice President Biden, affirming their belief that Hillary Clinton is the best choice for America's future and highlighting the importance of Virginia in the presidential race.
People started lining up in the cold three hours before the doors opened. Dozens of people were not able to make it in. Although this event was not sponsored by Mason, the line appeared to be made up of a great number of students. The supporters we met – mostly registered democrats – were all very excited to see Tim Kaine and Joe Biden speak "live."
It was the first rally for many of them, like Louise Alliver, who had been supporting Hillary Clinton for 12 years. "I expect to lose my voice for cheering so much," she told us.
After three hours and numerous speakers – among them former Virginia Governor and current Senator Mark Warner, congressional hopeful Lu Ann Benett, and incumbent Congressman Gerry Connolly – Joe Biden and Tim Kaine finally arrived on stage with their wives in front of a cheering and impatient audience.
The current Vice President opened the show, reminding the audience that he ended the 2012 campaign with Tim Kaine. In a speech focusing on unity and respect, Joe Biden took a realistic stance, stressing "the hard truths that this election tells about our country."
"We have to bring this country together when tomorrow is over. We are going to treat each other with respect, we can't keep tearing each other apart. We have to take a look at what drove the other side. We have to start seeing each other again."
He also insisted on "the power of our example," saying that "we have to send this signal to the world, we never bend, we never bow, we never break."
"We're America, there's nothing that can stop us," he repeated, before letting Tim Kaine step in, as in a move to pass the torch.
The vice presidential Democratic candidate started off saying how glad he was to be at George Mason to finish his campaign. "Anything I am good at, you all have taught me," he told his fellow Virginians.
After praising Joe Biden, he went on to explain his excitement to be Hillary Clinton's running mate. "I was also a Civil Rights lawyer, like her. We are pro-equality people. We have got to be stronger together," he said.
Tim Kaine used her fight for a comprehensive health care when she was first lady to prove her resilience. "She wouldn't back down, she wouldn't go away and give up. Don't you want this in the office?" he asked the cheering crowd. He then tackled the importance of Virginia in the race, recalling Virginia history and the state's "scar tissue".
"Women right to vote was ratified in spite of Virginia. In 2008, a lot of people thought Virginia wouldn't be there. We surprised them. Tomorrow we have a chance to do that again. The moment she will win, women will say 'I can do the same.'"
"Let's make history Virginia," he concluded, in a last effort to stress the Virginia's significance and get out the vote in his home state.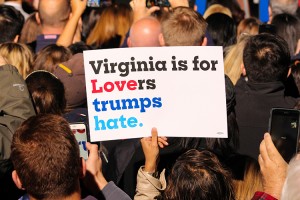 All of our interviewees, without exception, said it has been a "rough" campaign. Among them, Gabby, Cameron, and their friends. Although they were high schoolers, they had been following the campaign closely. A campaign Cameron saw as "negative" with "so many negative attacks and lots of racist and misogynistic language." "We're waiting for all to be over," he added. When asked about Hillary Clinton's email controversy, none of them seemed really impacted by it. Hailey May said it has never been a reason why she "didn't support her." "I'm tired of the emails to be honest," she claimed, echoing the thoughts of many people in the audience.
Lauren Short, Noelle McCutcheon, and Michelle Kelly have all been long-time supporters of Hillary Clinton. Lauren has been "supporting her since she was First Lady." "We all knew she'd be President one day," she said, "because she is extremely intelligent, determined and has proven that what's important to her is important to me." "She is willing to unite people instead of dividing them, and I think this is important at a time when people are angry," Noelle explained. Michelle, for her part, told us that "when Obama won in 2012, [she] knew [she] was ready for Hillary." Why? "Because she stands for sound policies that are aligned with my beliefs", she answered. All of them felt confident about the results and Lauren was even on her way "to go buy champagne so [she] has it ready to pop tomorrow night."
Jonathan Garcia Calderon is a Mason student who used to support Bernie Sanders and endorsed Hillary Clinton after she got the nomination, which was the case for quite a number of people in the audience. "The fact that Bernie Sanders supported her helped. I think he should have been the Democratic nominee, he admitted, but I still believe in her because her policies tie in with my values." When asked about this election, Jonathan said he was amazed by the involvement of (young) people this year: "it's awesome that we're all getting involved, it's our civic duty."
For Camron Fareedi, a 16-year-old American whose parents were born in Pakistan, it is crucial to beat Donald Trump because of his "Islamophobia". "I was supporting Bernie Sanders but she's the democratic nominee and Trump's policies against Muslims are terrible," he told us holding a "Pakistanis for Hillary" sign.
Theodore – seven years old – and Zachari – ten years old – did not seem to mind waiting for hours in the cold as long as it was to support the Democratic ticket and attend their first political rally. "It's going to be cool to have a first woman President, she is a good person. I am very excited about tonight, I followed the campaign, it was very interesting," Zachari told us. Mark, their father, is a registered democrat: "It's been a historically strange and crazy campaign but I am excited about her. I think she is going to be a better President than a lot people expect her to be," he explained.
Supporters seemed delighted when they finally exited North Plaza. "We loved it. We could've dressed a little warmer but apart from that our expectations were fully met," Dagon and Sarah Shaldon told us. Caren McDonald thought it was "wonderful."
This last rally on-campus closed out an unprecedentedly rough and negative campaign that will see its final conclusion tonight as America renders its decision on Campaign 2016.
Photos by: Mimi Albano