Discover which issues are key as students cast their ballot in November.
By: Angelique Arintok  |  October 1, 2018
Courtesy of Fourth Estate, Mason's official student newspaper.
Now, more than ever, there is a push for millennials to show up at the polls in November. Mason students, in particular, are paying attention and responding to the issues which matter most to them.
Before Wednesday's debate, Mason students had clear ideas as to how they'll vote in the upcoming midterm elections. A recent poll on Fourth Estate's Twitter account asked student voters, "Which of [the] four issues is the most important to you in deciding who to for?"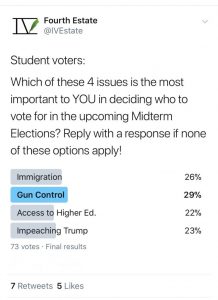 The options provided were immigration, gun control, access to higher education and impeaching President Trump. However, those with an outlying choice were encouraged to reply.
The responses pooled 73 varying opinions with gun control, leading at 29 percent. The other options came in close with immigration at 26 percent, impeaching Trump at 23 percent and access to higher education at 22 percent.
It is critical to consider that the poll requested only one response, whichever the student deemed most important.
Although topping Fourth Estate's poll, gun control and gun violence were not mentioned at the live debate.
"Gun control is one of the most important issues for me in the upcoming Midterms," freshman Film and Video Studies major Abby Clark says. "It's a very polarizing topic but we need to find a common ground, where both sides can agree in order to protect innocent people from being hurt."
Stewart and Kaine are running with separate agendas. Stewart dubs his campaign as "Take Back Virginia," and Kaine is running with the slogan "A Virginia That Works for All."
Click here to read the full story on gmufourthestate.com.
Photos by: Angelique Arintok