By: Alexander Shedd, Mason Votes Reporter
With the 2018 midterm elections quickly approaching, knowing the candidates is essential to casting an informed vote. For those who are first-time voters, casually political, or experienced policy wonks, here's what you need to know about Virginia's Senatorial candidates Tim Kaine and Corey Stewart.
Tim Kaine (D)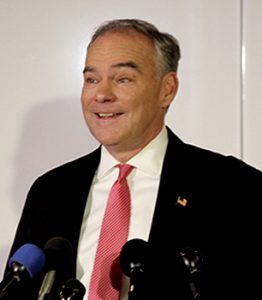 The website of incumbent senator Tim Kaine, the Democratic candidate, touts him as "one of 30 people in American history to have served as a mayor, governor, and United States senator." Raised in Kansas City, after growing up working in his father's ironworking shop, Kaine graduated from the University of Missouri with a degree in economics. He soon after managed a technical school in Honduras, where he became fluent in Spanish.
Kaine later graduated from Harvard Law School and became a private practice lawyer in Richmond, Virginia and a lecturer at the University of Richmond School of Law. During his time as a lawyer, he specialized in housing law and represented clients who were victims of housing discrimination.
Kaine won his first public election in 1994 when he was elected to the Richmond City Council. In 1998, he was elected mayor of Richmond, a position which he held until 2001, when he was elected Lieutenant Governor to then-governor Mark Warner (Virginia's current senior senator).
In 2006, Kaine was elected governor of Virginia. After his term ended in 2010, Kaine was elected senator. Overlapping these two positions, Kaine was the chairman of the Democratic National Committee from 2009-2011 at the request of former President Obama.
In the senate, Kaine currently serves on the Committee on Armed Services, the Committee on the Budget, and the Committee on Foreign Relations. He was also the vice presidential nominee for Hillary Clinton's 2016 presidential campaign.
Tim Kaine's voting record shows a staunchly anti-Trump point of view. However, his campaign for reelection focuses primarily on statewide issues. His main issues include fighting for civil rights (including equal voting rights and protection against discrimination), safeguarding Virginia's environment, expanding the Affordable Care Act, protecting immigrants and DREAMers, and preventing gun violence.
Corey Stewart (R)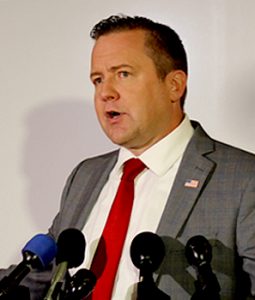 Currently the county chairman of the Prince William County Board of Supervisors, Republican candidate Corey Stewart has been in Virginia politics on the local level since 2003. Originally from Duluth, Minnesota, Stewart moved to the D.C. area when he transferred to Georgetown University, where he was the first member of his family to graduate from college. Stewart returned to Minnesota to study law at William Mitchell College of Law before settling finally in Virginia.
Aside from his duties as county chairman, Stewart works as an international trade attorney. He was originally elected as chairman in 2006 and quickly established a reputation as a hardliner on immigration policy. Stewart touts a record of "more than 8,000 criminal illegal aliens" turned over to Immigration & Customs Enforcement in Prince William County during his tenure as one of his core talking points.
After an unsuccessful bid for the Republican Lieutenant Governor nomination in 2013, Stewart went on to become the chairman of the Virginia chapter of the Donald Trump presidential campaign. Stewart notably stood by Candidate Trump during many of his more infamous campaign scandals.
Later in 2016, Stewart announced his candidacy for the 2017 Virginia gubernatorial race. His campaign was highlighted nationally by his staunch pro-gun rights stances, defense of Virginia's confederate monuments, and his use of language associated with white nationalists. Stewart narrowly lost the Republican primary to Ed Gillespie.
Stewart declared candidacy for Tim Kaine's senate seat in July 2017, shortly after the gubernatorial primary, and received the Republican nomination in 2018. A self-described populist, Stewart's primary campaign issues include supporting President Trump's legislation, rebuilding infrastructure, defending Second Amendment rights, and combating illegal immigration.
Photos by: Angelique Arintok