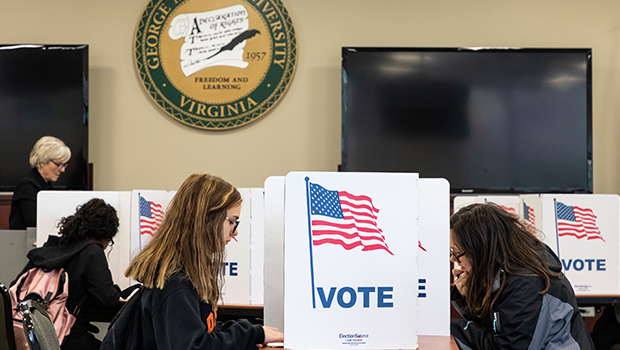 Story by: Mary Lee Clark  |  Photos by: Lathan Goumas
Rain or shine, George Mason University students showed up for the midterm elections.  
Students demonstrated civic responsibility by casting their ballots and hosting events to encourage voter registration and turnout. Student Government partnered with Virginia21, MasonVotes, the Office of Student Media and Mason Hillel for a Rock the Vote event outside Merten Hall, the polling location for students living on campus.
Merten Hall, the polling place for the 134th precinct, counted 1,695 ballots, which included students, nearby residents, and faculty and staff living on campus.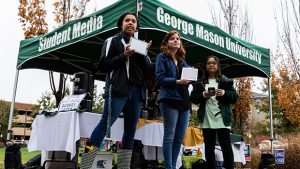 Student Media conducted exit polling outside of Merten while the student organizations offered warm drinks, games, music and food. Student body vice president Erik Truong, a senior in government and international politics, said it's important for students be civically engaged not just during the elections but year-round.​
"One quote I heard a while ago was that 'if you aren't at the table, you're on the menu.' I believe it rings true and emphasizes how important it is to be at that decision-making table," said Truong. "Millennials and Generation Z will be living on this planet for decades, so whatever decisions are being deliberated on today will directly affect us tomorrow." keep reading >

Read the full story on Mason's website: gmu.edu/news/572771
Reprinted courtesy of Mason Strategic Communications