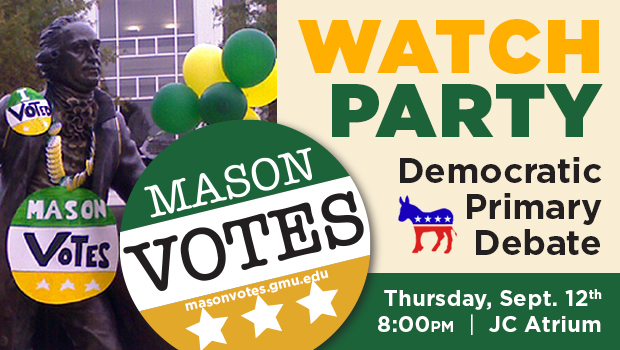 Join Mason Votes for a Debate Watch Party in the Johnson Center Atrium at 8:00pm ET on Thursday, September 12, 2019 as 10 Democratic Primary candidates square off LIVE from Texas Southern University on ABC.
George Stephanopoulos (ABC), David Muir (ABC), Linsey Davis (ABC), and Jorge Ramos (Univision) will serve as moderators.
Down from a much wider field of 20 candidates who qualified for the first two Democratic primary debates, the 10 hopefuls appearing this Thursday night were the only ones to meet the Democratic National Committee's threshold of both 130,000 individual donors and at least 2% in four qualifying polls.
All 10 qualifying candidates will be appearing onstage together for the first time: former VP Joe Biden, Sen. Bernie Sanders, Sen. Elizabeth Warren, Sen. Kamala Harris, Sen. Cory Booker, Sen. Amy Klobuchar, Mayor Pete Buttigieg, former Housing Secretary Julián Castro, former congressman Beto O'Rourke, and entrepreneur Andrew Yang.