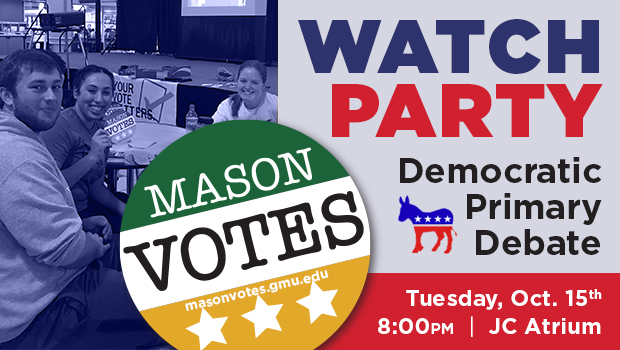 Join Mason Votes for a Debate Watch Party in the JC Atrium at 8pm on October 15th as 12 Democratic primary candidates square off LIVE on CNN. Anderson Cooper (CNN), Erin Burnett (CNN), and Marc Lacey (New York Times) will serve as moderators.
The following 12 candidates will appear together on the debate stage: Sen. Amy Klobuchar, Sen. Cory Booker, Mayor Pete Buttigieg, Sen. Bernie Sanders, former VP Joe Biden, Sen. Elizabeth Warren, Sen. Kamala Harris, entrepreneur Andrew Yang, former Rep. Beto O'Rourke, former Housing Secretary Julián Castro, billionaire and activist Tom Steyer, and Rep. Tulsi Gabbard.
In order to qualify, candidates were required to meet a 2% polling threshold in four pre-approved polls and receive financial contributions from at least 130,000 unique donors (including 400 donors each from at least 20 states).
Click here to RSVP via Mason360.