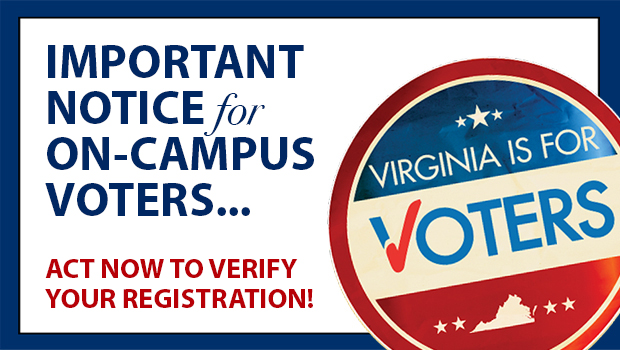 Just in from the Fairfax County Office of Elections:
The Fairfax County Office of Elections is extending the deadline to make corrections to Mason campus voters who included inaccurate addresses on their voter registration forms provided by a third party voter registration drive held on Mason campus. Most importantly, this window of opportunity is only for those whose registrations have been held due to improper or incomplete addresses.
If you registered to vote on campus this fall please confirm your voter registration ASAP at: www.elections.virginia.gov
If you do not see your information, your registration is being held because your residence hall/dorm room # is missing, and an extension has been made for you to complete the form.
The extension is only for those that registered at Mason in fall of 2019.
You may submit a new voter registration application, or by writing your full name, residential address, year of birth, last four digits of your social security number and signature on a sheet of paper and providing it to the Fairfax County Office of Elections or scanning the submission and forwarding, as an attachment, to: voting@fairfaxcounty.gov. 
You may also fax it to 703-324-2205, or deliver to the office 12000 Government Center Pkwy, Suite 323, Fairfax, 22035, during normal business hours.  Business hours:  8 a.m. to 7 p.m. Monday – Friday, Saturday Oct 26, 9 a.m. to 5 p.m. and by noon, Saturday, Nov. 2, 2019.