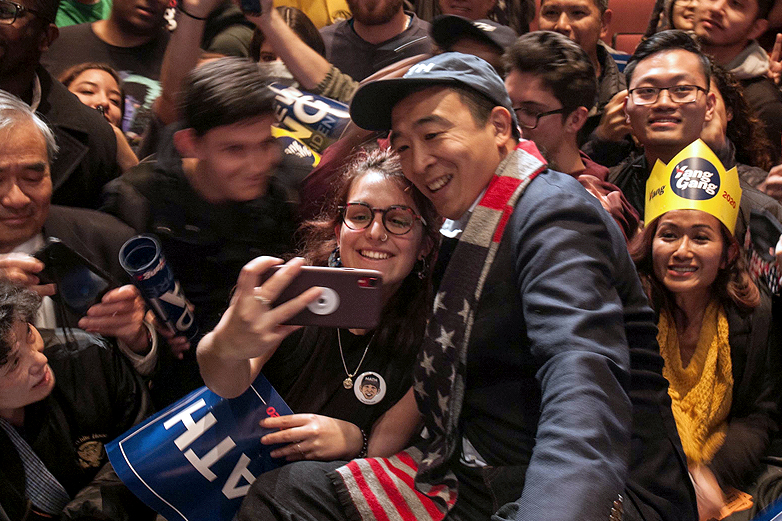 Democratic presidential hopeful Andrew Yang brought his 2020 campaign to George Mason University on Monday, November 4, 2019, rallying a capacity crowd of 1,900 students and supporters in the Center for the Arts on the Fairfax campus. The 44-year-old entrepreneur and self-described "Asian man who likes math," is still considered a long-shot for his party's nomination, but his ability to connect with college voters and recent $10 million grassroots fundraising haul suggest that his campaign might have more staying power than some of his fellow contenders currently polling in the single digits.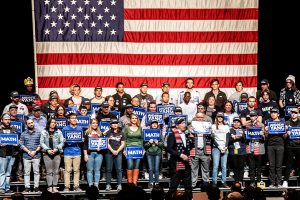 Best known for his signature universal basic income policy that would provide a $1,000 per month "Freedom Dividend" to every American adult, Yang has focused his campaign on addressing the concerns of disaffected voters who feel left behind by profound shifts in the American economy. Citing the rise of artificial intelligence, impending large-scale workforce displacement due to automation, and corporate tech giants like Amazon who don't pay their fair share in taxes, Yang made the case for his "humanity first" economic approach at Mason on Monday night:
"We are going to rewrite the rules of the 21st century economy so that they work for us, they work for you… It is time to dispel this confusion in America that economic value and human value are the same things. They are not. And this is what threatens to turn us against each other and destroy us."
Yang extended his economic theory to explain the election of Donald Trump in 2016:
"The Democrats are acting like Donald Trump is the source of all of our problems. He is not. He is a symptom, he is a manifestation of the fact that we're going through the greatest economic transformation in our country's history."
Whether Yang's energy and message are enough to turn "Yang-curious" Americans into full-fledged voting members of the #YangGang remains to be seen, but he continues to qualify for the televised Democratic primary debates and as a result will stay in the fight at least through Thanksgiving.
"The people of this country are a sleeping giant, and this campaign is the smelling salts, Virginia. We are going to wake the people up one by one… We are in a democracy. We are the owners and shareholders of this country, and if enough of us get together and say that we want an economy that works for us it will become a reality."
Watch full video of Andrew Yang's rally at George Mason University below:
Reporting by: Jason Hartsel
Photos and video by: Mohammad Abdallah Khamis