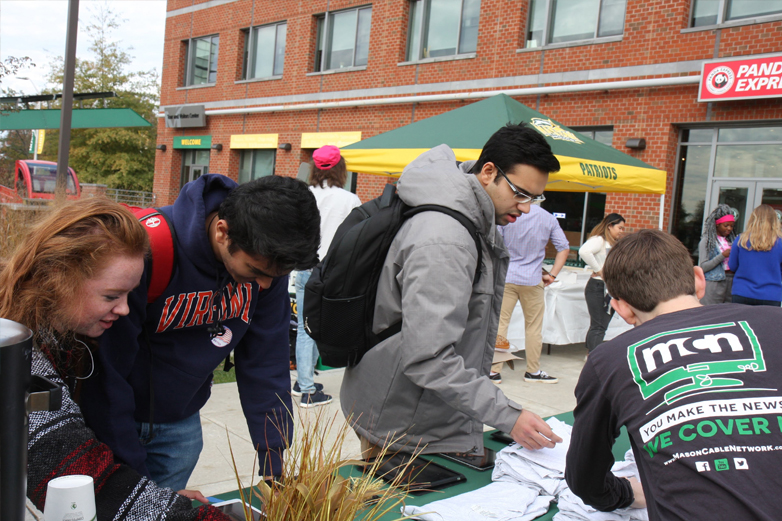 Student Media and Mason Cable Network conducted exit polling outside Merten Hall on Election Day (November 5, 2019) to learn more about what issues and candidates were motivating factors for student voters in the 2019 state and local elections.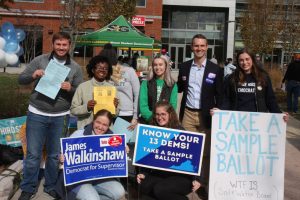 Despite the lack of marquee national candidates on the ballot in this off-year election, over 100 students completed a short exit survey after voting at Mason's on-campus polling place and local poll workers reported brisk turnout. The results of the exit surveys were announced on Mason Cable Network's LIVE election coverage on Tuesday evening. Click here to watch MCN's full election night broadcast on YouTube.
Mason Votes partnered with Student Media, Mason Cable Network, Student Government, Virginia21, Student Involvement, Students Demand Action, NAACP, OnAir, Pan-Hellenic Council, and other politically-active campus groups to host a joint "Party at the Polls" event from 10am-6pm outside the Merten Hall University Precinct. The get-out-the-vote effort included free coffee and donuts, music, student organization tabling, and visits by a few local candidates including James Walkinshaw and Chap Petersen.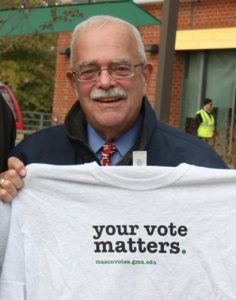 U.S. Representative Gerry Connolly (D-VA 11th) also stopped by to chat with student organizers and he picked up a Mason Votes t-shirt during his visit to campus (see a photo on the right).
Keeping with trends seen in previous elections, Mason voters overwhelmingly supported Democratic candidates in all of the major races:
Virginia Senate: J.C. "Chap" Petersen (84%-Petersen, 13%-None of the above, 3%-Write-in candidate).
Virginia House of Delegates 34th: David L. Bulova (85%-Bulova, 14%-None of the above, 1%-Write-in candidate).
Virginia Commonwealth's Attorney: Steve T. Descano (61%-Descano, 22%-Jonathan L. Fahey, 17%-None of the above).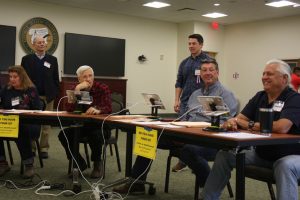 The most important issue to Mason students when casting their ballots in 2019 was Civil Rights, with 20% of respondents selecting that as their top concern. This tracks fairly close to our 2018 and 2017 exit poll results when 28% and 25%, respectively, of on-campus voters identified Civil Rights as the most important issue.
The next most important issues to Mason voters in 2019 were Health Care (16%), Environment (16%), Economy and Jobs (10%), Gun Control (9%), and Higher Education (9%).
Full exit polling results can be found below. Click on an image to enlarge.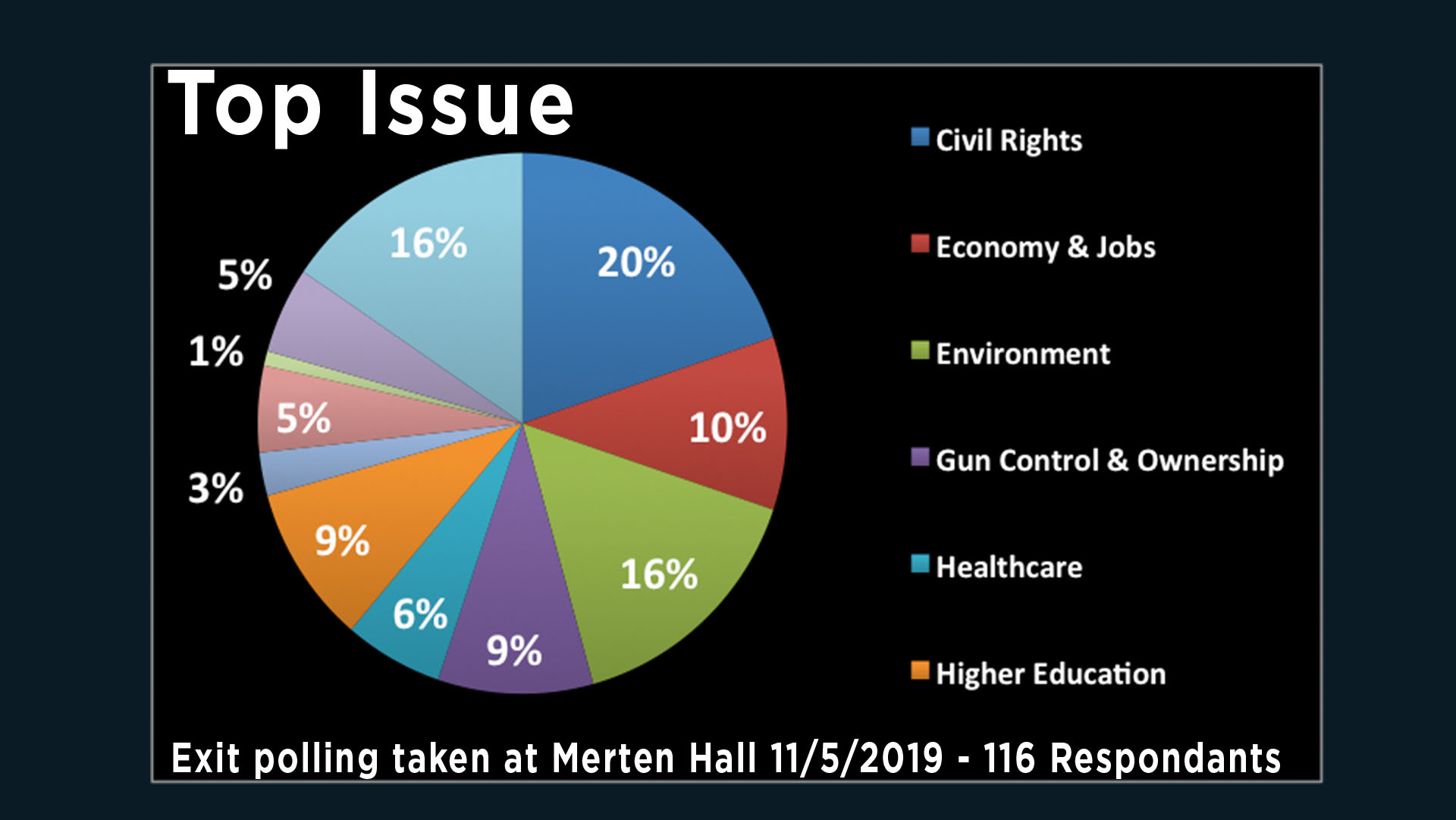 Watch full video of MCN's 2019 LIVE Election Night coverage below:
Photos by: Mohammad Abdallah Khamis
Video and Exit Poll Graphics courtesy of: Mason Cable Network