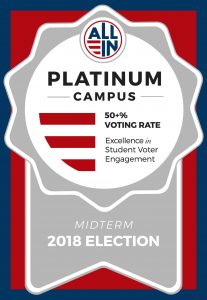 George Mason University was awarded a Platinum Seal for Excellence in Student Voter Engagement by the ALL IN Campus Democracy Challenge* on November 12, 2019. Platinum Seal campuses met or exceeded 50% student voter participation in the 2018 midterm elections based on data collected by Tufts University's Institute for Democracy & Higher Education. Mason's designation as a Platinum Seal Campus (one of only 62 nationwide) reflects an increase in student voter turnout from 2017, when Mason was designated as a Silver Seal Campus. Click here to read more about voter engagement from Mason News >
Based on the most recent report from the National Study of Learning, Voting, and Engagement (NSLVE), Mason's 2018 voting rate exceeded the national average by double digits (52.4%-Mason vs. 39.1%-national average) and more than doubled our own rate of turnout in the last midterm election back in 2014 (52.4% in 2018 vs. 24.6% in 2014). See the chart below for a head-to-head comparison of Mason's voting rate in the last two midterm and presidential cycles.
* The ALL IN Campus Democracy Challenge is a nonpartisan, national initiative recognizing and supporting campuses as they work to increase nonpartisan democratic engagement and full student voter participation. The Challenge encourages higher education institutions to help students form the habits of active and informed citizenship, and make democratic participation a core value on their campus. More than 560 campuses have joined the Challenge since its launch in summer 2016.