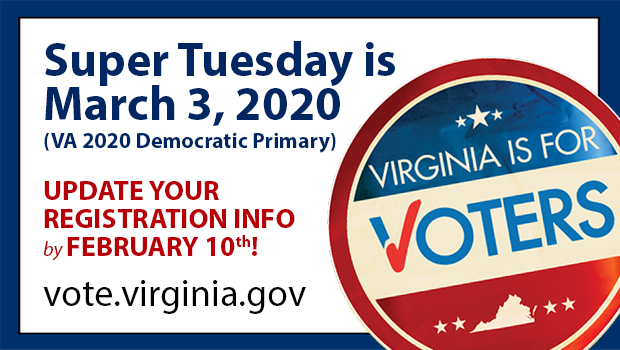 Virginia will vote for their choice in the 2020 Democratic Primary on Tuesday, March 3rd, joining Alabama, Arkansas, California, Colorado, Maine, Massachusetts, Minnesota, North Carolina, Oklahoma, Tennessee, Texas, Utah, and Vermont as one of 14 Super Tuesday contests. More delegates are up for grabs on March 3rd than any other single day of voting in this cycle.
Eligible Mason students (U.S. Citizens and Virginia residents born on or before November 3, 2002) will be able to vote on campus at the Merten Hall polling place, provided they are properly registered at their current on-campus address.
The deadline to register or update your registration information is Monday, February 10, 2020 by mail or in person, or online at vote.virginia.gov by 11:59 pm, Monday, February 10th.
Click here for complete registration, voting, and eligibility information.
Fun Fact: Virginia doesn't require voters to state their party when registering, meaning any registered voter can vote in the March 3, 2020 Democratic Presidential Primary.
NOTE: Democrats are the only party holding a Presidential Primary in Virginia on March 3, 2020. Republicans chose to select Delegates to their National Convention at a State Convention to be held at a later date. Source: www.fairfaxcounty.gov/elections/upcoming