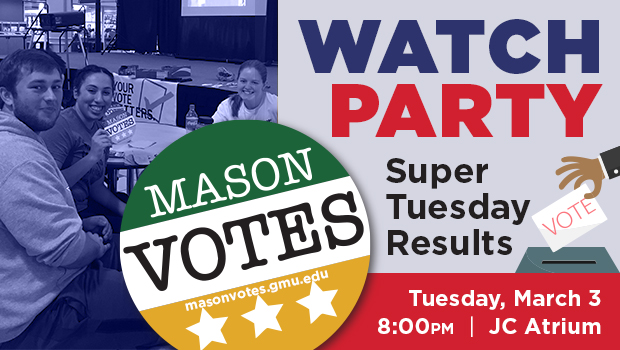 After you vote, you're invited to join Mason Votes for a Super Tuesday Results Watch Party at 8pm on Tuesday, March 3rd in the Johnson Center Atrium. Enjoy #FREEpizza and swag while socializing with other students who are following Election 2020 as closely as you are!
Click here to learn more and RSVP via Mason360.
Remember to #VOTE! Polls are open 6am-7pm.
Eligible Mason students (U.S. Citizens and Virginia residents born on or before November 3, 2002) will be able to vote on campus at the Merten Hall polling place, provided they are properly registered at their current on-campus address. Click here for complete voting and eligibility information.
Fun Fact: Virginia doesn't require voters to state their party when registering, meaning any registered voter can vote in the March 3, 2020 Democratic Presidential Primary.
Virginia will vote for their choice in the 2020 Democratic Primary on Tuesday, March 3rd, joining Alabama, Arkansas, California, Colorado, Maine, Massachusetts, Minnesota, North Carolina, Oklahoma, Tennessee, Texas, Utah, and Vermont as one of 14 Super Tuesday contests. More delegates are up for grabs on March 3rd than any other single day of voting in this cycle.
NOTE: Democrats are the only party holding a Presidential Primary in Virginia on March 3, 2020. Republicans chose to select Delegates to their National Convention at a State Convention to be held at a later date. Source: www.fairfaxcounty.gov/elections/upcoming