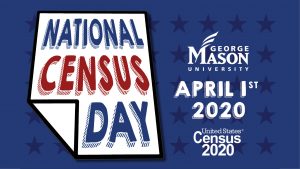 Wednesday, April 1, 2020 is National Census Day! While we all #StayAtHome and practice social distancing to combat Coronavirus, consider taking a few minutes to complete your 2020 Census forms.
The United States Census Bureau is asking all Americans to "help shape your future, and your community's future, by responding to the 2020 Census." Visit my2020census.gov to begin.
According to their website: "The 2020 Census will ask a few simple questions about you and everyone who is or will be living with you on April 1, 2020. For the first time, you can choose to complete the census online, by phone, or by mail." Click here to learn more about ways to respond.
The 2020 Census will determine congressional representation, inform hundreds of billions in federal funding every year, and provide data that will impact communities for the next decade.
Click here to learn more about how Census data is used to help you and your community.
This vitally important, once-a-decade count includes all college and university students! Student who normally live at school should be counted at school, even if you are living somewhere else due to COVID-19 disruptions. If you live in on-campus housing your institution may already have you covered, but if you live off-campus you should receive a 2020 Census form in the mail.
Check out this video from the Census Bureau with official guidance for students:
Mason Libraries is hosting an online workshop on April 1st about how to use Census data:
https://gmu.libcal.com/calendar/events/census2020