Student-Run Organizations Encourage Civic Engagement on Campus
By: Madalyn Godfrey, Mason Votes Special Contributor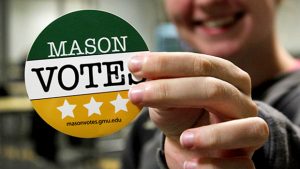 Fall has arrived on Mason's campus and change is in the air. Leaves are changing colors as the temperature cools down and congressional seats may be changing colors as voters head to the polls on Tuesday, November 8th.
Recognized as being a "Voter-Friendly" campus, Mason reported a 52.4% voting rate in the previous 2018 midterm elections, according to Tufts' National Study of Learning, Voting, and Engagement. As students turn their attention towards the upcoming elections, various student-run political organizations across campus are increasing their voter turnout and awareness efforts.
Hearing from College Republicans at GMU, Democrats at Mason, and College Libertarians at Mason, each organization has their own set of initiatives to increase voter turnout, while offering information and advice for eligible voters.
Joseph Szymanski, the Chairman of College Republicans, spoke on behalf of the organization saying "[College Republicans] are helping anyone who is not yet registered to vote to get the information and items needed to do so." The group encourages Mason students to use their option of an absentee ballot, as well as take advantage of early voting rules.
"It's easy. Do it," Szymanski said, speaking on registering to vote and going to vote. "No matter your age, if you have an opinion, you should let it be known by going out and voting for the candidate that aligns best with your views… You're deciding who's going to be doing the legislative work for the next two, four, or six years," said Szymanski, while expressing the importance of voting.
For Democrats at Mason, Olivia Nealon, the Chief of Staff, said on behalf of the organization that "[Democrats at Mason] are passionate about making [the voting process] an easy process for students." The organization is helping students every Wednesday in the Johnson Center, and will remind students to register and vote, including on Election Day.
"[Democrats at Mason] has been focusing on the upcoming elections, and helping get students involved in these elections in Virginia and across the country… Giving students the opportunity to get involved in these elections help make them more passionate and engaged in the voting process" said Nealon, regarding how the organization is spreading awareness. Nealon added, "It's time for the younger generation to make their voices heard," while speaking on the importance of voting.
President Richard Fast of College Libertarians at Mason, on behalf of the organization, said "College Libertarians are reminding voters that there are other options besides the two old parties. We spread [voter] awareness primarily through social media and word of mouth." The organization is also telling students the importance of voting in midterm elections as it "sets the tone for the general."
Additionally, Fast advises students to "vote for the candidate who you agree with the most, not the candidate that is most likely to win. There is value in a protest vote. Even if the third party candidate 'has no chance,' a sizable third party vote share could affect the issues of future elections. Voting for a third party candidate is one way, but not the only way, to change the electoral system in this country."
Despite supporting different candidates for the upcoming midterms, each organization offers advice for students who are eligible to vote. From Szymanski, on behalf of College Republicans, "Vote in a way that you have the most effect." "Be aware of all the deadlines!" says Nealon, on behalf of Democrats at Mason. Lastly, "Keep an open-mind, research candidates' positions, and make an informed decision" said Fast, on behalf of College Libertarians.
Whether students want to help move America forward, have their voice be heard, and/or take back their rights and freedoms; College Republicans at GMU, Democrats at Mason, College Libertarians at Mason, and other political student organizations, are available resources for students at Mason in helping them perform their civic duty.
_____________________________________________________________
Explore more student groups via Mason360: mason360.gmu.edu/club_signup