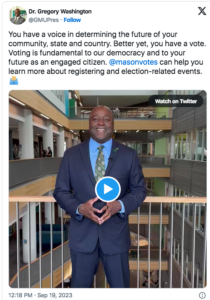 Patriots,
You have a voice in determining the future of your community, state and country. Better yet, you have a vote. Voting is fundamental to our democracy and to your future as an engaged citizen. 
That's why each year I remind you about #NationalVoterRegistrationDay. That day is today. This is an opportunity for you to register to #Vote in the November 2023 elections.
The Virginia State Department of Elections now accepts the Mason Mobile ID, as well as a physical Mason ID, for voter identification.
Oct. 16 is the deadline in Virginia to register to vote, or to update an existing registration. 
If you register with your campus address, you can vote at a polling place in Merten Hall, on the north end of the Fairfax Campus. @mason_votes can help you learn more about registering and about key issues and election-related events happening around Mason.
— President Gregory Washington (@presidentgregorywashington)