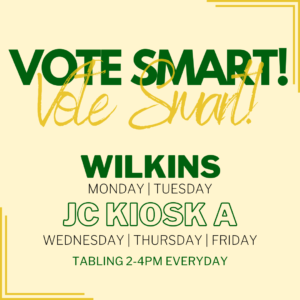 Join Student Government at Kiosk A in the Johnson Center Atrium every day this week to learn more about next Tuesday's election.
From the organizers: "Come learn about what's going to be on the ballot for this upcoming general election! Talk to professors and gain resources so that you can Vote Smart!"
VOTING REMINDER: Mason students who missed the Oct. 16th voter registration deadline but currently live on campus can utilize the new "same day registration" option to vote on-campus at Merten Hall on Election Day (Tuesday, November 7, 2023) using a provisional ballot. You will be asked to provide your on-campus residential address, so make sure to bring that information with you on Election Day.
Learn More: masonvotes.gmu.edu/2023/10/17/forgot-to-register-by-oct-16th-you-can-still-vote/
Still have questions? Always refer to the Virginia Department of Elections website for the latest and most accurate voter information: elections.virginia.gov
_____________________________________________________________
Event Details:
Vote Smart!

Date: Monday, October 30 through Friday, Novermber 3, 2023
Time: 2pm-4pm
Location: Mon-Tues @ Wilkins Plaza; Wed-Fri @ JC Atrium kiosk
Mason360 Links: cglink.me/2d7/r2252567
Host: Student Government | Website | View More Events