Presidential Debate #2
Date: Thursday, October 15, 2020
Time: 9-11pm (90-minute debate format)
Debate Location: Miami, FL (hosted by Adrienne Arsht Center for the Performing Arts)
Moderator: Steve Scully (C-SPAN)
In-Person Watch Location: Corner Pocket, The Hub (Fairfax Campus)
Stream the debates from home (check with your cable provider or find a free live stream from all major networks) and get caught up on past debates via YouTube: https://www.youtube.com/playlist?list=PLU12uITxBEPFAvcROsHJwIopn-Q-FMTSp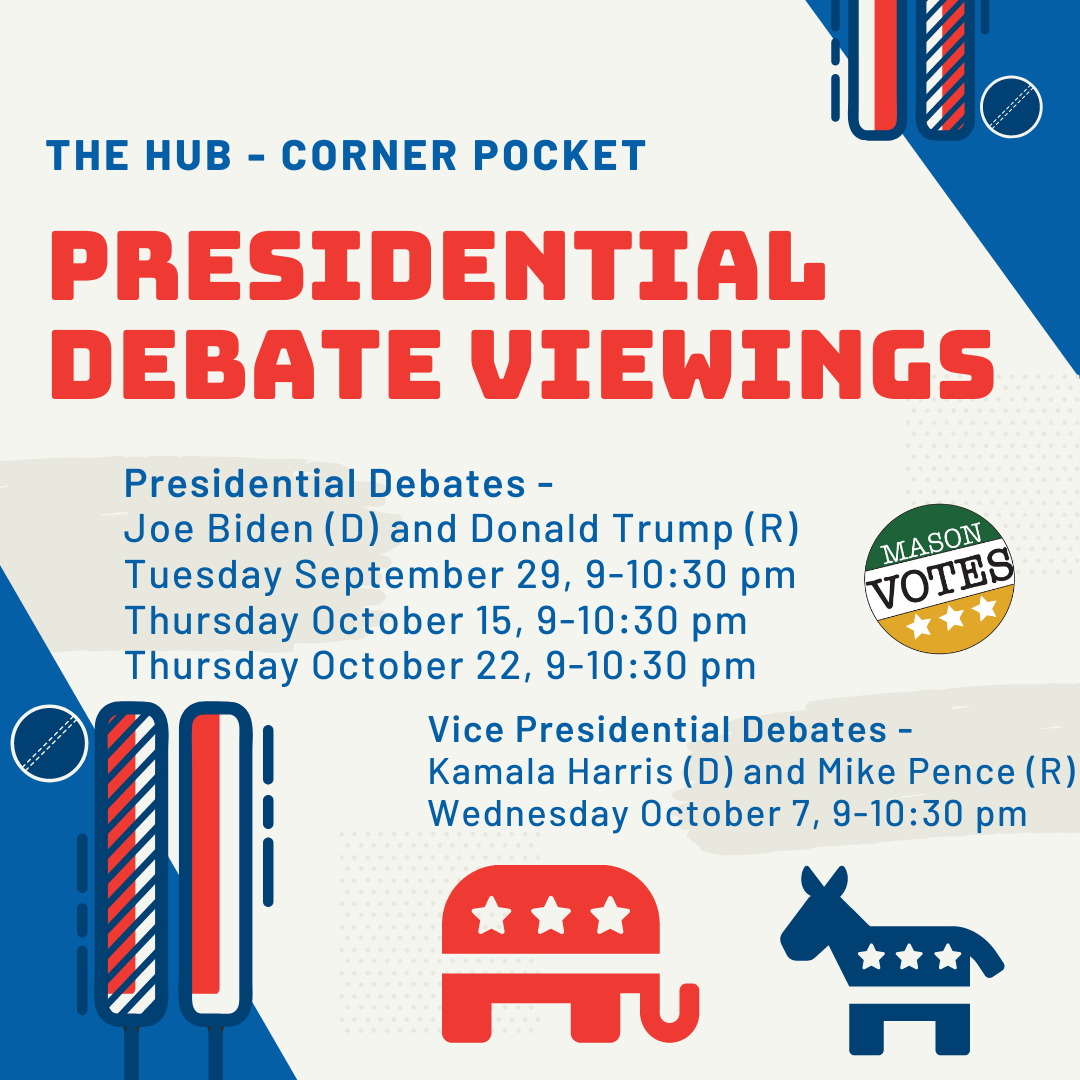 Second Presidential Debate Format:
The second presidential debate will take the form of a town meeting, in which the questions will be posed by citizens from the South Florida area. The candidates will have two minutes to respond to each question and there will be an additional minute for the moderator to facilitate further discussion. The town meeting participants will be uncommitted voters selected under the supervision of Dr. Frank Newport, Senior Scientist, Gallup.
All debates will be moderated by a single individual and will run from 9:00-10:30 p.m. Eastern Time without commercial breaks. As always, the moderators alone will select the questions to be asked, which are not known to the CPD or to the candidates. The moderators will have the ability both to extend the segments and to ensure that the candidates have equal speaking time. While the focus will properly be on the candidates, the moderator will regulate the conversation so that thoughtful and substantive exchanges occur.
(format announced on June 23, 2020)
Learn more about The Commission on Presidential Debates (CPD): www.debates.org/about-cpd