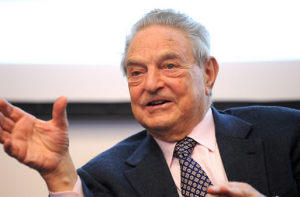 Photo by: cvrcak1
The New York Times reported that the billionaire businessman, George Soros, is contributing to three democratic super PACs.  The announcement was made at an event hosted by the Democratic Alliance.  He is giving $1.5 million in total; $1 million going to Obama supporting super PAC, Priorities USA Action and the remaining to two super PACs aimed at helping democratic candidates in congressional races.
This is the first time Mr. Soros will give money to Priorities USA Action.  Having been a high profile donor to Obama's 2008 campaign efforts, there was speculation that Mr. Soros' lack of financial support in this election cycle meant that he was not satisfied with the President's first term.
According to the New York Times, Mr. Soros was not personally able to attend the event where the announcement was made, although he sent an email to the other invitees. It explained that it was his displeasure with the U.S. Supreme Court's ruling on the Citizen's United case in 2010, allowing for super PACs that had caused his hesitation to donate, and that he was in support of the President Obama's re-election.
The Citizen's United decision ruled that corporations reserve the right to free speech, allowing for anonymous donors to contribute unlimited amounts of money to political action committees.  Although super PACs have received much criticism for greatly limiting the transparency of campaign finance, they have been utilized in support of both presidential candidates this election season.