Pence and Harris Face Off in Salt Lake City
With only 27 days left until the 2020 Presidential Election, the debates are dominating the conversation and tension is high for tonight's vice presidential face off in Salt Lake City, Utah.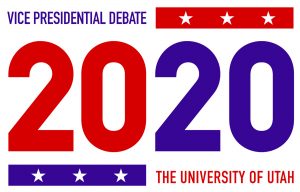 On Wednesday, October 7, 2020, at 9 p.m. EST Vice President Mike Pence and Senator Kamala Harris will be going head to head on a range of issues central to the choice facing voters in 2020.
According to The Commission on Presidential Debates (CPD), the vice presidential debate will continue as scheduled, despite many in the White House testing positive for COVID-19 over the weekend (including both President Donald Trump and First Lady Melania Trump, Press Secretary Kayleigh McEnany, advisor Stephen Miller, and others).
Both Vice President Mike Pence and Senator Kamala Harris have tested negative for COVID-19 and protocols are in place to ensure the safety of those in attendance, including plexiglass shields and a 12-foot distance between the candidates.
Tonight's VP debate will be held at the University of Utah in Salt Lake City, Utah in front of a small crowd. An estimated 150-200 people will be attending this event.
On September 2, The CPD announced that the Susan Page, the Washington Bureau Chief for USA Today, will be moderating the debate. This will be her first time hosting this event.
The debate will span 90 minutes with no commercial breaks. Nine topics will be covered, each topic being allocated ten minutes. Page will ask an opening question and each candidate will then have two minutes to respond. The remaining time in the segment will be used to further discussion on the topic.
After the first presidential debate, the CPD will be implementing changes in debate format for a 'more orderly discussion.'
_____________________________________________________________________________________________
Ways to Watch:
Watch with others in the Corner Pocket on Mason's Fairfax campus from 9 p.m. to 10:30 p.m.
Those watching from home can tune into any of the major networks to watch tonight's live debate coverage, including ABC, NBC, CBS, FOX, CNN, MSNBC, FOX News, PBS, and C-SPAN.
Stream the debates from home (check with your cable provider or find a free live stream from all major networks) and get caught up on past debates via YouTube: https://www.youtube.com/playlist?list=PLU12uITxBEPFAvcROsHJwIopn-Q-FMTSp