Strong Student Voter Turnout Earns Mason 'Voter-Friendly' Campus Recognition
By: Jeanene Harris, Communication Officer/Mobile Journalist, Office of Communications
This story was originally published on March 17th, 2021.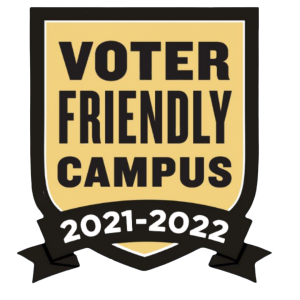 George Mason University, the largest and most diverse public research university in the Commonwealth of Virginia, was named a "Voter Friendly Campus" as the result of a campus-wide strategy to increase voter turnout. Mason is one of more than 231 colleges and universities across 37 states and the District of Columbia to earn this designation.
"Mason has experienced steady increases in student voter participation over the past decade, so I view this designation as a recognition of that progress and validation that campus-wide initiatives like Mason Votes actually do have a positive impact on civic engagement," said Jason Hartsel, assistant director of Student Media and communication and marketing faculty member.
Mason students living and registered on campus vote at the University Precinct in Merten Hall, which is in the 11th Congressional District. In November 2020, 347 people voted in the presidential election in the University Precinct.
According to Tufts' National Study of Learning, Voting and Engagement (NSLVE), Mason voting rates in midterm elections, which typically see much lower turnout than presidential cycles, more than doubled from 2014 to 2018, from 24.6% to 52.4%, respectively, and Mason's presidential voting turnout exceeded the national average by about 15 percentage points in both 2012 and 2016.
"Voting is so important because we elect individuals who potentially have the power to change our own lives or the lives of other communities," said Mason Student Body President Shelby Adams. "Being a Voter Friendly campus shows that, as students, we recognize a change needs to come, and we are willing to be a part of that change."
The Center for Information and Research on Civic Learning and Engagement reports that 52% to 55% percent of voting-eligible young people, ages 18-29, cast a ballot in the 2020 presidential election.
The Voter Friendly Campus designation aims to showcase efforts that help students overcome barriers to participating in the political process and develop a culture of democratic engagement on campus and in the local community. The initiative is led by the national nonpartisan organizations Fair Elections Center's Campus Vote Project (CVP) and NASPA–Student Affairs Administrators in Higher Education. The designation is valid through December 2022.
Despite the global pandemic, Mason increased its academic collaborations, with the additions of members from the Office of Community Engagement and Civic Learning and Coalition Building and Diversity Education, and partnered with the League of Women Voters and the Fairfax County Board of Elections.
Student Media received a grant from the Parents Fund in Fall 2020 to offer experiential learning scholarships to students serving on the 2020 Mason Votes Online Editorial Team. As a result of more original content offerings, masonvotes.gmu.edu saw a significant increase in web traffic during the 2020 election.
"Students feel passionate about issues like social justice, immigrant rights, gender equality, ballot access, and many others, but implementing positive change in those spaces is only possible through meaningful participation in the political process," said Hartsel.
Mason Cable Network's 2020 Live Election Coverage, which was live for about eight hours on Election Day and through 3:30 a.m. the next day, also proved to be successful.
"Not only did we have a successful broadcast that provided meaningful content to the Mason student body, but we blew everyone's expectations out of the water," said Mason News Network General Manager Cruz Sanchez.
To encourage long-term civic engagement, Mason established a post-election committee to ensure a safe place to discuss the results of the election and people's reactions to it.
"No matter the outcome, the committee found it pertinent to establish post-election events to cater to student's needs," said Noah Mack, a first-year student in the Schar School of Policy and Government.
Learn more about the "Voter Friendly Campus" initiative at www.voterfriendlycampus.org.
_____________________________________________________________
Click here to read the original article on the George Mason University website.