Fairfax County voters now have three easy ways to check voter registration status, poll location and other vital information before heading out to vote in the June 11 primary. To access your specific voter information, you will need to enter your Social Security Number or Voter ID Number (on your voter registration card).
1. Call the Fairfax County Office of Elections at 703-222-0776 (TTY 711). This 24/7 phone system enables you to confirm your voter registration status, your poll location and get answers to the 10 most frequently asked questions – when it is convenient for you. If you would like to talk to someone in the Office of Elections, call Monday through Friday, 8 a.m. to 4:30 p.m., with extended hours on Thursday until 7 p.m.
2. Download the Free Fairfax County Mobile App. Find the free app on the county's mobile page or by searching Fairfax County Government on Google Play or the Apple App Store. Once you download and launch the Fairfax County app, look for the vote icon. Using the app, you will be able to find your poll location and driving directions to get there, check that you are registered at your correct address and link to the Office of Election's website for easy access to other vital information.
3. Visit the Virginia State Board of Elections Website for voter registration status, ballot information, poll location, ID requirements and more.
For more information online, visit the Fairfax County Office of Elections.
—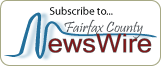 NewsWire is a service provided by Fairfax County to keep you up-to-date on news that affects you, your family and your community.  It's the quickest and easiest way to find out what is going on in your county.  It only takes a couple minutes to subscribe to NewsWire.  Go to http://www.fairfaxcounty.gov/news/subscribe/ and select the Twitter, email or RSS button and follow the simple directions.